Sadly passed away at the age of 83 at Priory Court Nursing home.
She leaves behind her sons Lea and Gary.
For those invited to the funeral, Nancy requested that NO ONE wears black. Bright colours are preferred.
For those wishing to donate in Memory of Nancy, the family have chosen Alzheimer's Society. If you are unable to donate via the below link, please send a cheque payable to 'ALZHEIMER's SOCIETY'
c/o Alan Greenwood, 425 Kingston Road, Ewell KT19 0BT.
Please mark the rear of the cheque: T/L Nancy Richmond.
Charity Donation In Memory of Nancy Richmond
Donate to Alzheimer's Society
Alzheimer's Society Donations
Anonymous
£25.00 + £6.25 Gift Aid
---
Anonymous
£25.00 + £6.25 Gift Aid
---
Wendy Coulson-Loades
In memory of a wonderful lady, Nancy Richmond, may you fly high with your beloved Roy ❤️
£25.00 + £6.25 Gift Aid
---
Anonymous
£100.00 + £25.00 Gift Aid
---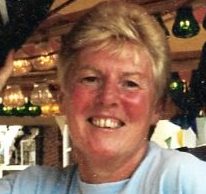 Alzheimer's Society
£175.00 + Gift Aid of £43.75
In partnership with JustGiving